In December 2010, ENSTA Paris-Tech and ENSTA Bretagne (ex Ensieta), two engineering schools which have long been complementary, created the ENSTA Group (Ecoles Nationales Supérieures de Techniques Avancées) to enhance their high level courses and research activities.
This group associates two schools recognized in their fields of expertise: energy, transport, maritime engineering and major industrial systems.
In the highly competitive context of higher education, size and visibility are major growth factors. The creation of the ENSTA Group is to this end.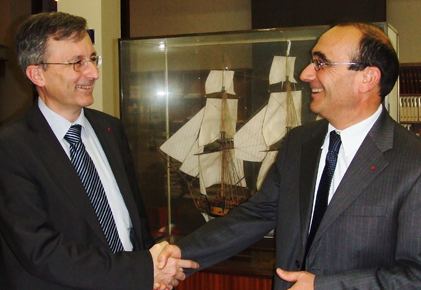 Yves Demay, Director of ENSTA ParisTech and Francis Jouanjean,
Director of ENSTA Bretagne.
The first joint actions of the two schools in the group are :
at an international level , through the sharing of certain of their networks,
at an educational level, through the creation of complementary common courses whilst maintaining distinct engineering  curricula,
at a research level, through the development of concerted approaches between their laboratories.
The principles of cooperation within the ENSTA Group:
A shared name, ENSTA, which refers to advanced techniques, high technology and major systems;
A shared recruitment method : ENSTA Bretagne adopting the Mines Pont competitive entry examination series  via the Ecoles des Mines competitive examinations.
The sharing of three strong values : excellence, multidisciplinarity, openness;
The continuation of judicial autonomy of the two establishments;
The continuation of separate engineering diplomas.
The group intends to receive other graduate engineering schools in complementary areas of excellence and who adhere to the founding principles of the group, notably a high capacity for innovation and a "systems" approach to education.